Inland is thrilled to announce that the Kenworth 100th Anniversary Tour Trailer will make special stops at our Regina and Winnipeg locations on September 8th and September 11th, respectively. This unique event offers a chance to explore the rich history of Kenworth, a brand synonymous with quality and innovation in the trucking industry.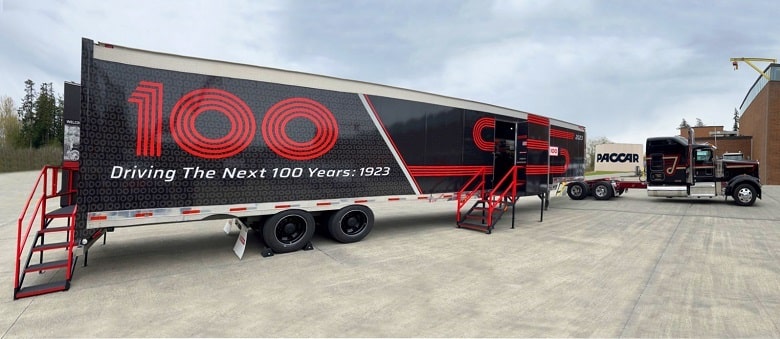 The tour trailer is a Great Dane 53-ft. step-deck van that showcases an extensive timeline of Kenworth's history. It features video presentations, vintage Kenworth badges, and more, providing an in-depth understanding of Kenworth's past and key developments that will shape its future. It has a unique history, having been used in Kenworth's 75th anniversary tour in 1998. It was later purchased by the late Allen Koenig, founder of Midwest Specialized Transportation, and has since been restored and updated with new information about Kenworth's history for this year's anniversary tour.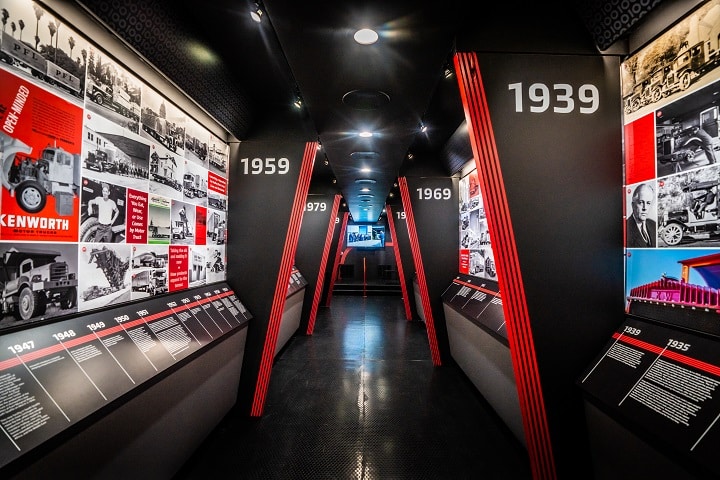 The trailer and history exhibit will be towed by a special T680 Signature Edition anniversary truck. This remarkable vehicle is outfitted with a 76-inch high-roof sleeper and features the PACCAR Powertrain, including a PACCAR MX-13 engine, PACCAR TX-12 automated transmission, and PACCAR DX-40 tandem rear axles, ensuring a smooth journey as it travels to share Kenworth's storied history.
We invite all our customers, partners, and Kenworth enthusiasts to join us at our Regina and Winnipeg locations to celebrate this milestone anniversary. Don't miss this chance to learn about Kenworth's history and experience the legacy of a brand that has been driving the trucking industry for 100 years.
Friday – September 8, 2023
11 a.m. – 2 p.m.
Monday – September 11, 2023
11 a.m. – 2 p.m.
A Year-Long Celebration of Kenworth's Legacy
The tour stops at our Regina and Winnipeg locations are just a highlight of Inland's year-long celebration of Kenworth's 100th anniversary. To commemorate this milestone, we announced the auction of three limited edition W900 trucks, each one of just 900 specially crafted by Kenworth. The proceeds from these auctions are being shared between regional charities and our good friends at Truckers Against Trafficking.
In May, our first auction featured a W900B Extended Cab Tri-Drive at the Canada North Resources Expo in Prince George, B.C. Along with a silent auction, we successfully raised over $140,000, benefiting both the Spirit of the North Healthcare Foundation and Truckers Against Trafficking.
Our second auction in July saw the sale of a W900L 86″ Studio Sleeper, with proceeds going to Canuck Place Children's Hospice and Truckers Against Trafficking.
Coming this October, don't miss the opportunity to bid on another W900L 86″ Studio Sleeper! Along with supporting Truckers Against Trafficking, this auction will also contribute to STARS Air Ambulance.
Join us in celebrating a century of Kenworth's innovation and legacy, and be part of our ongoing commitment to community support and positive change. To learn more about the campaign, click here.