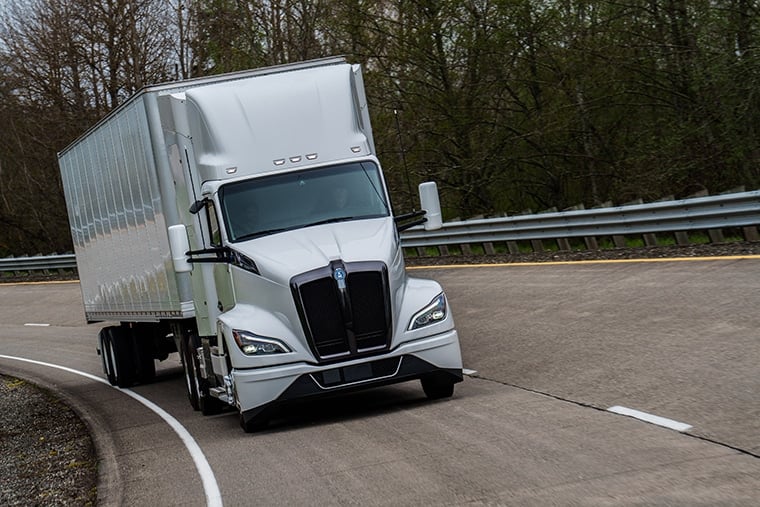 This week, Kenworth revealed plans to initiate production of its Class 8 T680 hydrogen fuel cell electric vehicle (FCEV), featuring zero emissions and powered by Toyota's fuel cell technology. The first customer deliveries are slated for 2024, with full-scale production set to commence in 2025. Dealerships in the United States and Canada are now accepting deposits for the initial T680 FCEV units.
Kenworth and Toyota Motor North America, Inc. (Toyota) have closely collaborated on the T680 FCEV's development, integrating Toyota's cutting-edge hydrogen fuel cell technology into Kenworth's flagship T680 on-highway truck. Depending on driving conditions, the T680 FCEV boasts a range of up to 450 miles.
"The T680 FCEV was engineered to offer one of the longest driving ranges of any zero-emissions trucks on the market," said Kevin Baney, Kenworth general manager and PACCAR vice president. "With quick refueling, this broadens our zero-emission product offering to include round-the-clock operations in regional haul and demonstrates FCEV potential for long haul."
The truck is equipped with Toyota's 310kW Dual Motor Assembly, capable of delivering 415 horsepower continuously at a maximum payload of 82,000 lbs (GCWR), and the Toyota Gen 2 Dual Fuel Cell Module.
"After years of research and development with Toyota and product testing the T680 FCEV in real-world operations, it's an exciting time in Kenworth's history to bring this technologically advanced truck to market," said Baney. "Kenworth is proud to be an industry-leading producer of zero-emission transportation solutions for our customers. The T680 FCEV is a great addition to our lineup of Class 6, 7, and 8 battery-electric models that are available today."
Last year, a joint pilot program at the Port of Los Angeles saw Kenworth customers operating ten prototype T680 FCEVs in real-world conditions. The program's success enabled Kenworth and Toyota engineers to develop the commercial-ready T680 FCEV.
"Toyota is excited to take the next step in this joint effort with Kenworth to provide a zero-emission powertrain kit to its customers," said Matt Stich, general manager Fuel Cell Solutions, Toyota Motor North America. "This proven hydrogen-powered fuel cell electric technology will allow commercial customers to help reduce carbon and operate more sustainably."
For more information on the T680 FCEV, contact your local Inland representative.