Best-in-class drawbar pull and horsepower in an easy-to-transport footprint and weight class — the 750M is a practical and versatile dozer capable of performing finish grading on residential and commercial sites, as well as handling more intensive earthwork on larger developments. The dozer is available in numerous track and blade configurations to meet specific applications — all compatible with a full range of machine control/grade control systems and the all-new factory fit option.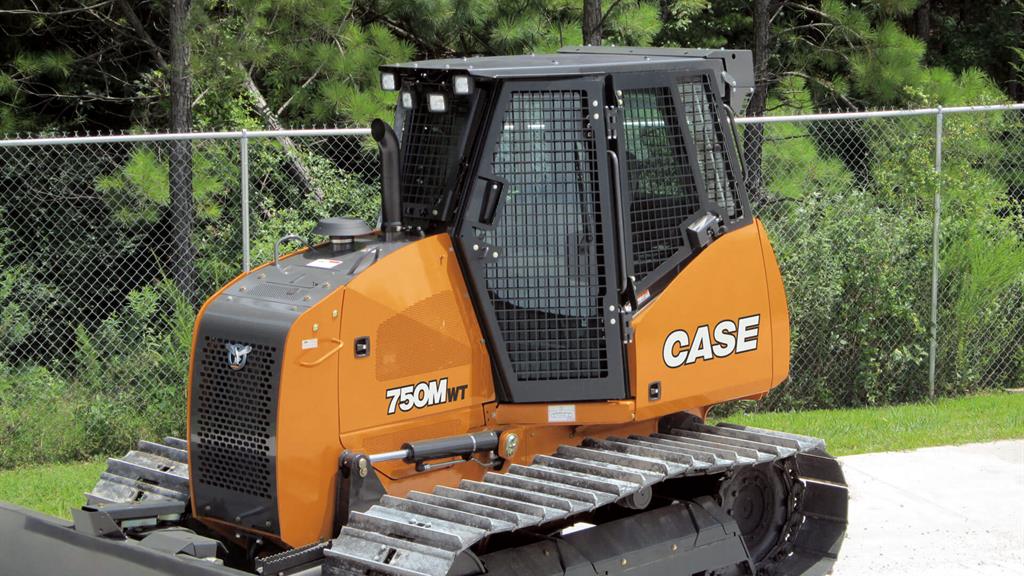 ---
Productivity
Best-in-class horsepower and drawbar pull ensures you always have the power and tractive effort to get the job done. Match that with excellent control customization and a load monitoring system that automatically adjusts performance to movement and the load on the blade — and the 750M is extremely powerful, efficient and versatile.
Fuel Efficiency
The 750M allows operators to adjust shuttle (forward-to-reverse) and steering sensitivity to Smooth, Moderate or Aggressive to match conditions on the site. And an advanced load monitoring system automatically reduces track speed (increasing torque) with a heavier load on the blade, and increases track speed (reducing torque) with a lighter load on the blade, ensuring that the machine is working at optimal power and efficiency at all times.
Comfort and Visibility
CASE M Series dozers provide some of the industry's best sight lines down to the blade, the tracks and the worksite with excellent visibility and lots of glass from floor to ceiling. A true positive-pressure cab with advanced sealing helps keep out dirt, dust and noise — creating a working environment with one of the industry's lowest sound ratings. And an "isolated" design further reduces cab vibration and provides a smoother ride.
Serviceability
The 750M features easy access and grouped service points — and newly enhanced CASE SiteWatch™ telematics provides insight into machine performance, maintenance intervals and more — allowing you to stay ahead of service and achieve optimal uptime.
For more information, check out the 750M brochure.
Standard Equipment
Operator Environment
Optional ROPS cab
Single lever control for speed, steering and direction
Cloth air suspension seat w/ back adjustment
Retractable 3 in (76 mm) seat belt
Adjustable armrest
Two foot rest
Rearview mirror
Two door windshield wipers
Dome light
12-volt accessory outlet
Headliner
Floor mat
Rear Wiper
Radio
Heat/AC
Warning lights:Air filter; Alternator; Diagnostic fault indicator; Engine coolant temperature; Engine oil pressure; Hydraulic filter; Low fuel level; Park brake engaged; Service soon indicator; Transmission filter; Transmission charge pressure; Transmission temperature
Gauges: Battery voltage; Fuel level; Digital hour meter/tachometer/diagnostic/service reminder; Transmission oil temperature; Transmission speed indicator; Water temperature
Audible warnings: Engine coolant temperature; Engine oil pressure; Low fuel level; Transmission charge pressure; Temperature/hydraulic temperature
Drivetrain
Dual path infinitely variable, single-lever controlled hydrostatic drive, with electronic straight tracking, power turns and counter-rotation
Final drive: Triple reduction; helical gear/planetary decelerator with hydrostatic drive retardation
Spring-applied hydraulic release parking brake
Blade
52°– 60° variable pitch, with integral adjustment tool
Single lever control for blade lift, angle and tilt
Undercarriage
Hydraulic track adjusters
Easy clean track covers
Sealed and Lubricated Track Chain (SALT)
Permanently lubricated track and carrier rollers
Track adjuster guard
Track guides – front and rear
Shock resistance idler mounting
Engine
FPT F5HFL413J*A002
Tier 4 Final Certified
DPF
CEGR
Cold start aid – glow plugs with standard dual 12-volt batteries
Automatic fan belt tensioner
Integral engine oil cooling
Fuel filter
Dual element air cleaner
120 amp alternator
950 CCA 12-volt battery
Hinged engine side panels
Other
Backup alarm
Horn
Work lights: 2 front/1 rear
Master disconnect switch
Mirror
Turbine Pre-cleaner
Front pull hook
Rear tow hook
Sweeps
Environmental Drain
4-Spool Hydraulic Valve with plugs for field installed Ripper
Transport Protection
Anti-vandalism package
Rear Transmission Guard
ProCare
CASE ProCare – Full Machine Protection Factory Warranty (3-yr/3000-hr), Planned Maintenance (3-yr/2000-hr) and SiteWatch telematics
Telematics
CASE SiteWatch™ Telematics – includes hardware and a 3-yr Advanced data subscription
Optional Equipment
Rear Mounted Equipment
Ripper – 5 position with 3 shanks
Hydraulic pump with PTO
Drawbar
Blades
96 in (2 438 mm)
104 in (2 642 mm)
109 in (2 769 mm)
120 in (3 058 mm)
124 in (3 160 mm)
Guards
Precision
Factory Fit CoPilot
Factory Fit 2D Laser
Factory Fit 3D GNSS
Leica Blade Guidance Ready
Trimble Blade Guidance Ready
Topcon Blade Guidance Ready
Screens
Radiator brush screen
Sandblast screen
Other
CASE Extended Life Track
Additional work lights
Front counterweight
Rearview mirror
Severe Cold Weather Package