The all-new CASE 580SV backhoe loader is a machine that carries your entire workload with a single operator and a single machine. Front to back, this exciting new backhoe gives owners and operators extreme flexibility.
The tool carrier linkage is ideal for those who use the loader end of their backhoe as a primary material handler – loading and unloading pallets, moving pipe and other bundled material around the yard. Adding a 4-in-1 bucket, a 6-in-1 bucket, or any of the countless attachments available for CASE backhoes turns this into a multi-purpose, job site-owning beast.
The sleek design and automotive feel is both stylish and deceptive — this machine has 97 horses, optional Extendahoe and Ride Control, and excellent performance specs to simplify even your toughest jobs.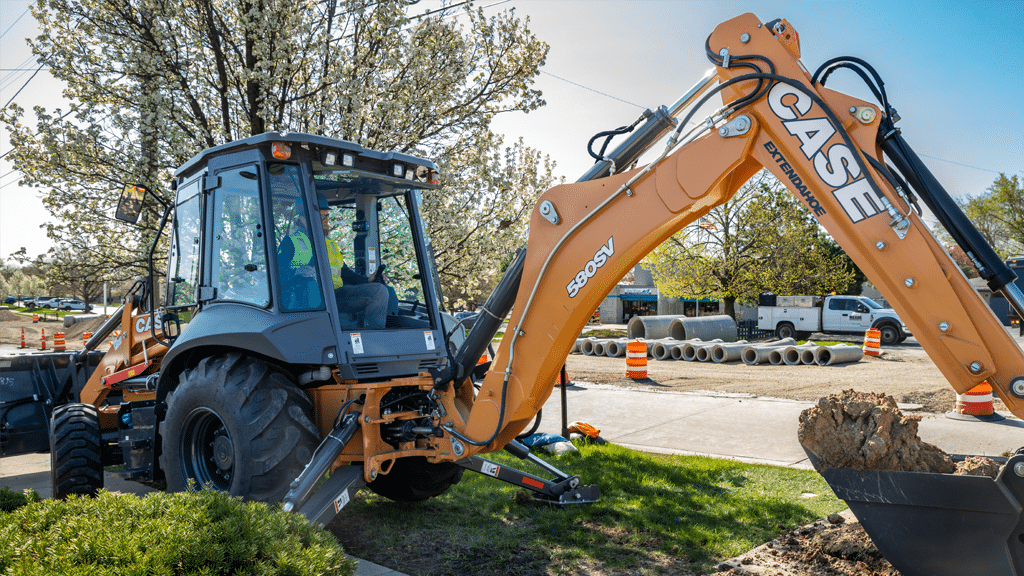 ---
Greater Stability & Material Retention
The tool carrier loader design of the CASE 580SV improves stability, material retention and visibility down to the bucket.
See Everything
A large cab with tool carrier design and lots of glass leads to great visibility to all work areas.
Boom Options For All
A curved boom aids in clearance over the side boards of dump trucks and an inner extension of the Extendahoe means less weight extending out for better performance and a simple design for easier maintenance. The 580SV is also available with an over-lapping cylinder boom that has the outer housing that extends out.
Intelligence Comes Standard
Each CASE 580SV Construction King comes standard with a CASE SiteWatch telematics subscription, improving fleet management practices, improving uptime, and serving as a platform that helps both equipment owners and CASE dealers be more proactive in supporting each machine.
For more information, check out the 580SV brochure.
Standard Equipment
OPERATOR ENVIRONMENT
ROPS/FOPS certified protective cab:

2 door w/ heat, A/C defroster, floor mat
Bluetooth radio
front and rear wiper
Interior rearview convex mirror
Mechanical suspension deluxe seat
2 in (50 mm) retractable seat belt
Cup holder and storage trays positioned on the right side; and enclosed storage compartment on left side

Gauges:

Engine water temperature
Converter oil temperature
Fuel level
Tachometer/hourmeter
DEF level

Warning lights:

Air cleaner restriction
Alternator
A/C high pressure
Cold start
Engine oil pressure
Hydraulic oil filter bypass
Parking brake engagement
Low fuel
Water in fuel
Low DEF

Audible alarms w/ diagnostics:

Coolant temperature
Engine oil pressure
Parking brake engagement
Converter oil temperature
Shuttle engagement/seat position
Backup alarm
Low DEF

Horn: Dual switched front and rear
LOADER
Tool carrier loader arms with self leveling in both directions and return to dig; Single lever 4-function loader control: lift, dump, clutch cut-out, differential lock
BACKHOE
In-line cylinder curved boom backhoe design
Cleated dirt stabilizer pads (center pivot)
Mechanical Transport Lock
WARRANTY
1-Year/Unlimited-Hour Full-Coverage Base Limited Warranty 2-Year/2,000-Hour Extended Engine Warranty
ENGINE
FPT F5 diesel
Selective Catalytic Reduction – SCR
Full flow engine oil filter
Aspirated air cleaner – replaceable dual element dry type with radial seal
Fuel filter with water trap
Radiator with de-aeration bottle
Antifreeze to -34° F (-37° C)
Electronic throttles – foot and rotary hand
Self-adjusting belt
High Pressure Common Rail computer controlled injection with diagnostic features
ECO Power Mode
Auto Engine Idle
Auto Engine Shutdown
Auto Protection Shutdown
Electronic Fuel Priming
Glow Plugs
DRIVETRAIN
Power Shuttle 4F-4R synchromesh transmission
Front axle:

4WD mechanically driven front axle with 14.0 L x 17.5 tires

Rear axle:

4WD heavy-duty outboard planetary drive, with 16.9 L x 28.0 tires

Torque converter – 11.8 in (300 mm)
On-the-go electric 4WD control
Electric F/R shuttle control
Electric differential lock control, push-button
Park brake, spring-applied, hydraulic release – SAHR
HYDRAULICS
Load Sensing Closed Center with Variable Volume Pump
Heavy-duty hydraulic oil cooler
7-micron, spin on oil filter
OTHER
Forward tilt engine hood
Front/Rear tie downs
Reflective logos
Signal Lights – cab and canopy:

2 rear tail/stop
2 front flashers/turn
2 rear flashers/turn

Working/Driving Lights – cab and canopy:

Adjustable halogen work lights – 55 W:

Master disconnect switch and remote jump-start terminals
Hydrostatic steering
Backup alarm
Vertical spin-on engine oil, fuel and hydraulic filters
Tool Box
Optional Equipment
OPERATOR ENVIRONMENT
Speed selectable Auto Ride Control
ROPS/FOPS certified protective canopy
DRIVETRAIN
H-Type Powershift transmission, 4F-3R, hydraulic clutch shifting, kick down, transmission disconnect and FNR switch in loader control lever, includes auto shift mode
LOADER
Auxiliary hydraulics for loader-mounted equipment with thumb-operated proportional control
Hydraulic front quick coupler
Tool portfolio of additional attachments
Buckets
OTHER
LED Working/Driving Light Package:
Dual 12 volt batteries
Cold Weather Lubricants
TELEMATICS
CASE SiteWatch™ Telematics
SERVICE PARTS
3 inch seat belt
N Series compatible backhoe coupler for in-line cylinder backhoe
BACKHOE
Backhoe design styles:

Side Shift
Center Pivot
Overlapping Cylinder Boom with Extendahoe®

1-way Auxiliary backhoe hydraulics for hammers, plate compactors or similar 1-way flow attachments
1-way/2-way Auxiliary backhoe hydraulics for hammers, plate compactors or similar 1-way flow attachments or switch to 2-way flow for augers or similar 2-way flow attachments
Backhoe Booms:

14 ft Standard Boom
14 ft Extendahoe®
15 ft Extendahoe®

Pilot operated control system:

Thumb-operated proportional Electro-Hydraulic Extendahoe® control
Thumb-operated horn button
Thumb-operated auxiliary hydraulic control
Infinitely adjustable towers
In-cab switchable "excavator to backhoe" control pattern change

Dirt stabilizer pads (side shift)
Universal Footstreet stabilizer pads (side shift)
Flip over stabilizer pads
Bucket quick coupler
Buckets