Specifications and equipment information displayed on this page have been sourced from the manufacturer's website for informational purposes. These details are subject to change at any time without prior notice. Please consult your local Inland dealer regarding standard and optional equipment for the most accurate and up-to-date information.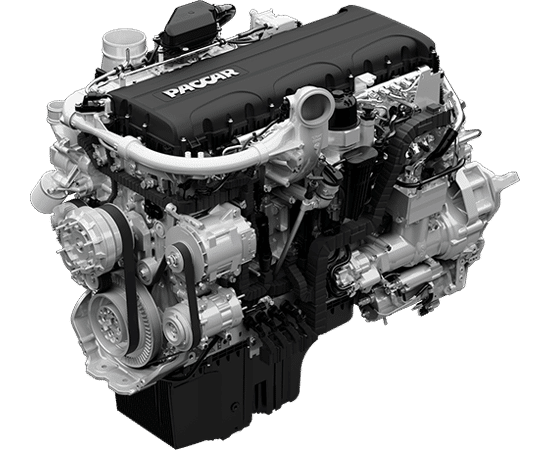 When seeking a truck that positively impacts your bottom line, consider one equipped with a PACCAR MX-11 engine. This 10.8-liter engine delivers up to 430 horsepower and 1,650 lb.-ft. of torque at a low 900 RPM, elevating performance, responsiveness, and drivability. Moreover, it shaves over 400 pounds of tare weight compared to a 13-liter engine, allowing for increased payload, better operational efficiency, and enhanced fuel economy—ideal for regional hauls, tankers, bulk transport, construction, and waste management.
Fuel Injection System
Featuring a 36,000 PSI fuel injection system, the MX-11 excels in fuel efficiency.
Compacted Graphite Iron
Constructed with compacted graphite iron (CGI), our engines are 75% stronger and 20% lighter than traditional gray cast iron.
Horsepower
The MX-11 sets a new benchmark in efficiency and quality, offering up to 430 horsepower and 1,650 lb.-ft. of torque.
---
Ratings
| Peak Horsepower | Peak Torque LB-FT @ RPM |
| --- | --- |
| 445 | 1,700 @ 900 |
| 430 | 1,650 @ 900 |
| 430MT | 1,450/1,650 @ 900* |
| 415 | 1,550 @ 900 |
| 400 | 1,450 @ 900 |
| 375 | 1,350 @ 900 |
| 355 | 1,250 @ 900 |
*Multi Torque Rating
---
Specifications
| | |
| --- | --- |
| Configuration | Inline 6-Cylinder |
| Bore x Stroke (MM) | 123 x 152 |
| Displacement | 10.8 L |
| Dry Weight | 2,200 LBS |
| Oil System Capacity | 39 U.S. Quarts |
| Horsepower | 355-445 HP |
| Peak Torque | 1,250-1,700 LB-FT |
| Governed Speed | 2,200 RPM |
| Base Warranty | 2 Yrs / 250K Miles / 400K KM |
| Major Components Warranty | 5 Yrs / 500K Miles / 800K KM |
| Certification | EPA 2021 |
| Maximum Operating Weight | 110,000 LBS |
*Determined By Engine Horsepower and Idle Setting
---
Maintenance Intervals
| Maintenance Item | Kilometres | Miles |
| --- | --- | --- |
| Fuel Filter (Normal/Line Haul < 20% Idle Time) | 120,000 | 75,000 |
| Fuel Filter (Normal/Line Haul > 20% Idle Time) | 80,000 | 50,000 |
| Fuel Filter (Severe Vocational Duty) | 48,000 | 30,000 |
| Oil and Filter (Normal/Line Haul < 20% Idle Time) | 120,000 | 75,000 |
| Oil and Filter (Normal/Line Haul > 20% Idle Time) | 80,000 | 50,000 |
| Oil and Filter (Severe Vocational Duty) | 48,000 | 30,000 |
| Coolant Filter | 480,000 | 300,000 |
| DEF Filter | 560,000 | 300,000 |
Reference MX Engine Operators Manual for engine maintenance requirements