Tigercat's advanced, efficient and refined skidders just got a whole lot better with a completely redesigned operator station and numerous advancements to boost productivity and minimize downtime.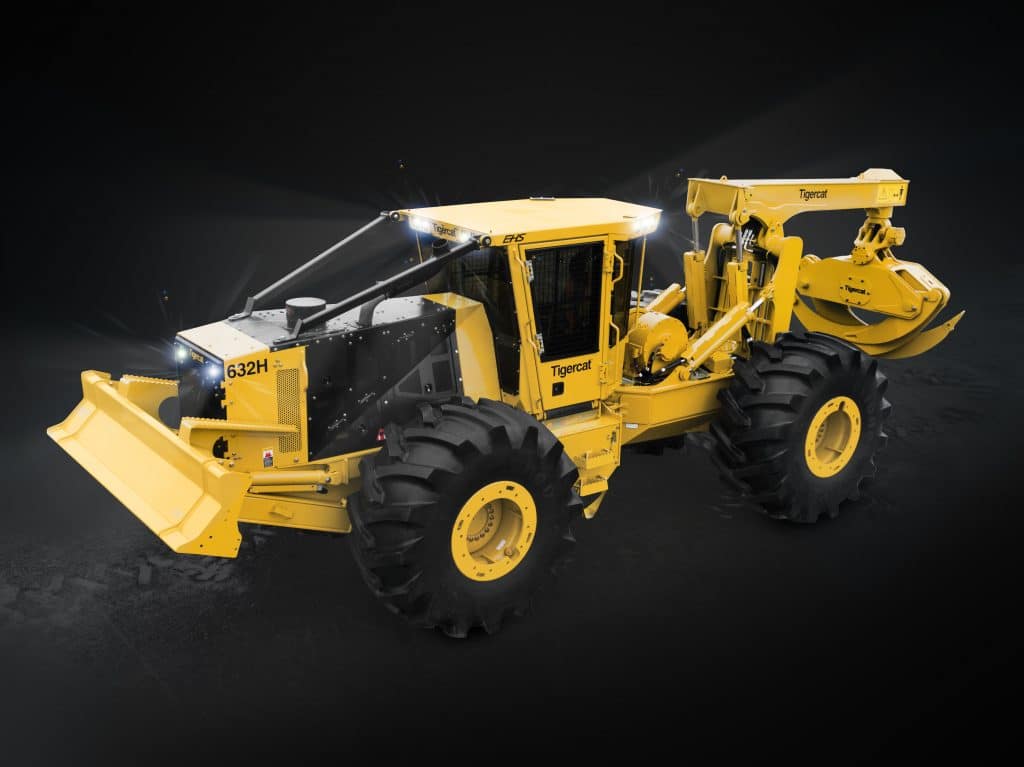 Tigercat H-series skidders introduce a new, larger cab, while improving serviceability, reliability, and efficiency. The new skidder line includes the release of the 620H, 630H, and 632H four-wheel models, as well as the 625H and 635H six-wheel models.
The redesigned operator station provides 20% more cab space than the previous E-series design. Window area has increased by 19% offering superior forward and rear visibility. Additional low side windows allow for better sightlines to all tires.
A new and improved Turnaround® system lets the operator rotate the seat 220°. Effortless pushbutton controls lock and unlock the seat in any position in the range. The operator has full control of all machine functions including drive controls. The 220° seat rotation improves operator visibility, greatly reduces neck strain, and allows the operator to easily exit either side of the cab.
A durable, heavy duty air ride suspension seat with heating and cooling keeps the operator comfortable all day long. The reclining seat is fully adjustable with seat angle and seat extension adjustment. Tilt up adjustable armrests along with adjustable lumbar support all contribute to operator comfort. A secure five-point harness comes standard for improved safety.
A completely redesigned HVAC system provides more efficient cooling capacity, 50% more air vents, infinitely variable fan speed, and an automatic defrost option. A ventilated cup holder with adjustable airflow keeps your drink hot or cold. Dedicated storage locations are set aside with space for a lunch box, hooks for a hardhat and jacket, along with a sturdy cell phone holder and convenient charging port.
The interior finish includes a state-of-the-art LCD touchscreen display. Interior walls are made of molded plastics and removable steel panels making cleaning a breeze. On the floor you will find an easy-clean rubber floor mat with checkered aluminum plates at high touch points for added durability.
Operator controls are now located on the armrests and include several new features. Independent differential lock buttons are easily accessible on the joystick with the ability to engage the front and rear separately. LED lights above the buttons illuminate making it crystal clear when they are active. A cruise control button is also available to maintain the drive command for the operator.
All H-series skidders feature load-sensing hydraulics with larger, more efficient valves. Hydraulic tank capacity has increased 20% for improved steep slope performance, along with improved level detection and more robust mounting. Horsepower has increased on the 620H, 630H, 632H, and 635H models. The 620H and 630H are now equipped with larger arch and boom cylinders. The 625H is equipped with larger arch and boom cylinders, along with larger steer and dozer cylinders – all to maximize productivity.
Engine enclosure doors have been reinforced to resist impacts. T-style compression latches ensure they stay securely closed. Belly doors now use pivot bolts to effortlessly swing open and a new smaller door makes accessing the fluid drain plugs a breeze. When tilting the cab is necessary, new 'quarter turn' locking pins, adjustable sweep brackets, and a larger tilt cylinder make the job much simpler. Batteries, drain hoses and fill hoses are now easily accessible within the left side step. A robust tire pressure monitoring system now comes standard on all models.