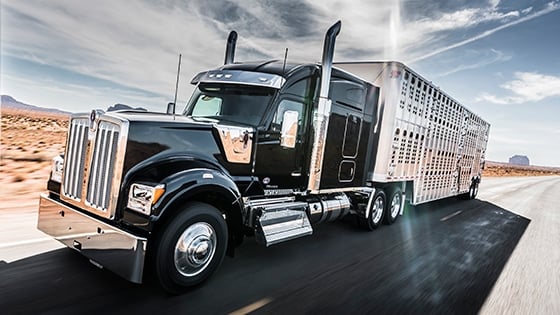 When you drive a Kenworth W990, others notice. It is a look. It is a sound. It is the undeniable recognition of your achievement. With 130 inches from bumper to back-of-cab, no one ignores the sheer presence of Kenworth's latest long-hood classic. A W990 blends the choices you make, from powertrain to paint scheme, with Kenworth's right-the-first-time manufacturing expertise. The result is the best-engineered, hardest-working, most comfortable and downright awe-inspiring truck on the road.
Open the door on a W990 and it's easy to understand why so many professionals would prefer to turn the key of a Kenworth than any other truck. Deep, luxurious diamond-and-button upholstery creates a welcoming sanctuary reminiscent of the world's finest luxury sedans. Fully adjustable Air Cushion Premium Plus seats have been orthopedically contoured for comfort and support. The state-of-the-art dash features multiplexed electronic instrumentation, all the gauge options you want, and large, easy-to-reach switches and controls. In-cab storage includes a convenient place to put your thermos; upholstered seat back pockets; center console with drink hold-ers, two 12-volt outlets, a perfect spot to place your cell phone and more.
Then there are all the subtle things you can't see – you simply have to experience. Like Kenworth's high performance heater/air conditioner with the motor thoughtfully mounted on the firewall to minimize cab noise. The flatter toe board angle and suspended throttle and clutch pedals that reduce leg strain. A ride that smooths out all of the road's rough edges. And a look that will stop traffic.
76-INCH MID-ROOF SLEEPER – For lower-profile and weight-sensitive applications, the Kenworth W990 with a 76-inch mid-roof sleeper reduces weight by 100 lbs over one of our full-height options. The spacious sleeper can be ordered with either the optional back wall storage system or folding upper bunk to meet your individual needs.
52-INCH MID-ROOF SLEEPER – When the schedule requires a short layover, the Kenworth 52-inch sleeper is a welcome sanctuary. It measures 8 feet wide with a generous walk-through and stand-up-and-stretch headroom.
40-INCH FLAT TOP SLEEPER – For applications where length and tare weight are at a premium, Kenworth's 40-inch sleeper is
a perfect match. It offers a compact, yet comfortable sleeping environment, 22 cubic feet of storage space, overhead shelves, a cell phone cubby and extra large coat hooks specifically designed to hold hard hats as well as coats.
LIMITED EDITION DAY CAB – Upgrade your day runner with a Limited Edition Kenworth W990 Daycab. You get all the amenities of the Limited Edition interior — rich black leather, Ravenwood accents and Royal Blue double stitched diamonds. The Limited Edition is also available with gray GT702 seats.
To drive a truck efficiently, drivers must track fuel, vehicle and safety systems performance on the go. But good information isn't the only thing the Kenworth Driver Performance Center offers. The quality, clarity and visual in real-time presentation also means a lot when you're focused on the road. The 5-inch full color, high resolution screen is an industry first. At a glance, it tells you everything you need to know about operating in the sweet spot between performance and efficiency. Truck diagnostics and performance indicators pop up to alert the driver. Trip details and multi-route comparisons allow them to maximize performance every day.