Inland is proud to be the exclusive Kenworth T180 and T280 dealer in Arizona, California and New Mexico.
Kenworth is proud to unveil a groundbreaking new category of medium-duty trucks – bespoke vehicles that have been expertly engineered to tackle your most demanding operational hurdles. These trucks boast a resilient, adaptable, and exceptionally agile chassis design, as well as a sleek, aerodynamic exterior that provides vastly improved visibility. Their powertrains are fully optimized for maximum efficiency and proven reliability, while their advanced driver-centric operating systems ensure ease of use and precision control. Moreover, the cab environment is unparalleled in terms of quality, with Day One drivability for non-CDL personnel. Explore our current inventory of Kenworth T280s online.
Browse Our Current Inventory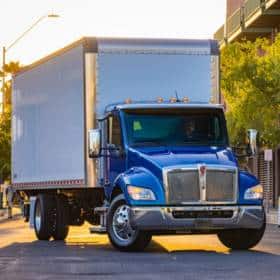 Versatility in Medium-Duty Operations
The Kenworth T180 and T280 are designed to be the go-to solutions for a wide range of medium-duty applications. Whether you're in delivery, towing, or service utility, these trucks offer the flexibility to be configured according to your specific needs. With varying GVWR options—19,500 pounds for the T180 and up to 26,000 pounds for the T280—these trucks are as adaptable as they are reliable, making them ideal choices for businesses that require multi-purpose vehicles.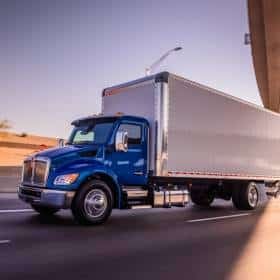 Engineered for Efficiency and Reliability
Both the T180 and T280 come equipped with PACCAR PX engines—like PX-7 or PX-9—renowned for their balance of power and fuel efficiency. These engines not only provide the performance needed to tackle a variety of tasks but also offer the reliability and low cost of ownership that Kenworth trucks are known for. Coupled with durable construction and quality components, these trucks are built to minimize downtime and maximize productivity.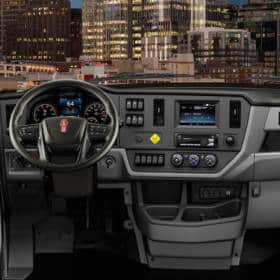 Driver-Centric Design
Understanding that driver comfort directly impacts productivity, the T180 and T280 feature ergonomically designed cabs. High-quality seating, intuitive controls, and advanced infotainment options create a driving environment that reduces fatigue and enhances job satisfaction. The interior serves as a functional yet comfortable command center, allowing drivers to focus on the task at hand while enjoying modern amenities.
For More Information, Visit the Kenworth Website