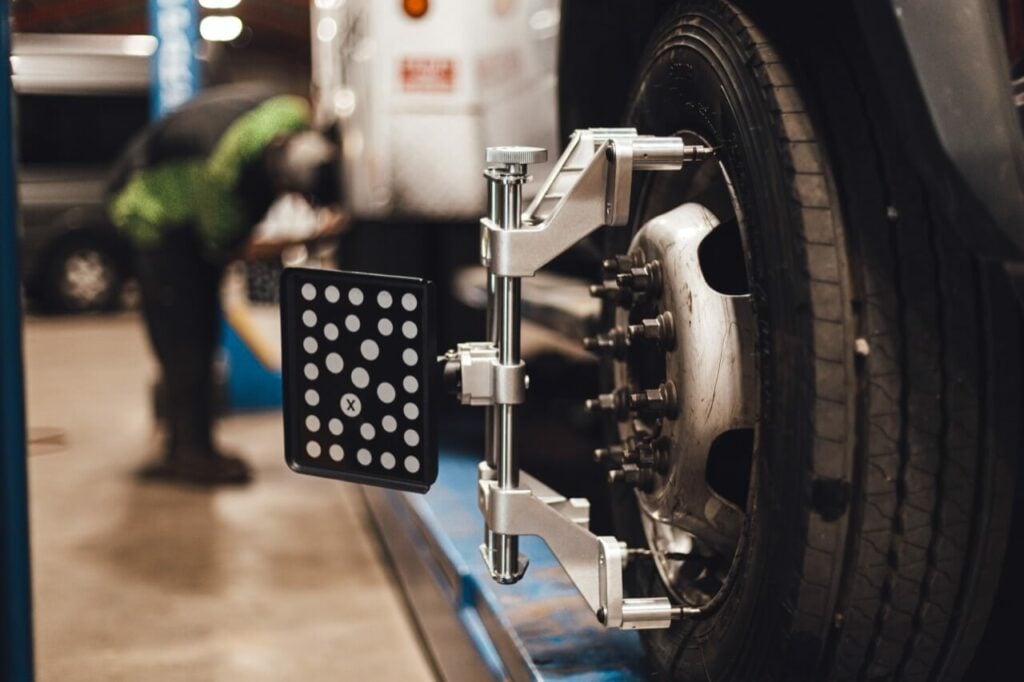 When driving long distances, it's very common to notice that your vehicle drifts to the left or right. This is caused by your wheels not being properly aligned and could signify that you need truck alignment services as soon as possible.
Just like regular cars, heavy-duty trucks use suspensions. Your wheel hubs connect to the steering knuckle with either ball joints or kingpins. These are mechanisms that allow your wheels to move up, down, or sideways depending on how you're driving your truck, but they can also wear out over time and cause alignment problems.
Driving long miles on poorly aligned suspensions can get worn beyond their ability to remain horizontal with the rest of the truck body. This can lead to serious problems like your wheels getting damaged when they contact things like potholes or rocks.
You'll know that you need an alignment done when your truck pulls in one direction when you apply the gas pedal, forcing you to compensate by veering left or right while driving straight down the road.
Solutions
The first thing you'll need to do is have your suspension checked to see if the problem is actually with your alignment. This means having an inspection performed on all of your ball joints and kingpins, as well as checking that your tie rods are secure at both ends.
The most common solution to alignment problems is to have your wheels realigned. This means that you'll need to have all four corners of your truck re-measured so the technician can adjust them accordingly. This will help correct any drift issues you might have but doesn't fix anything underneath your suspension system.
If there is serious damage being done by faulty wheel alignment, you might need to have your wheel bearing or steering knuckle replaced. The ball joints and kingpins should also be looked at to make sure they're not damaged. If your wheels are made of alloy, the mechanic might need to weld them back together or replace them entirely if they can't fix them.
In cases where your wheel is bent out of shape, you'll need to have them replaced entirely for the truck wheels to go back to their proper position.
Schedule Semi Truck Service at Inland Kenworth
To schedule service, fill out the form below or find the nearest location to you and get in touch.
Parts Request
Fill out our Parts Request form and an Inland representative will reach out to you as soon as possible.
---
Parts Specials
Don't miss our current parts specials – tailored for your needs.