Our body shop and collision repair center was built to get your truck back on the road quickly. Whether you're dealing with a small scratch or dent or need a complete body rebuild, we have best-in-class tools and trained technicians to bring your truck back to like-new condition.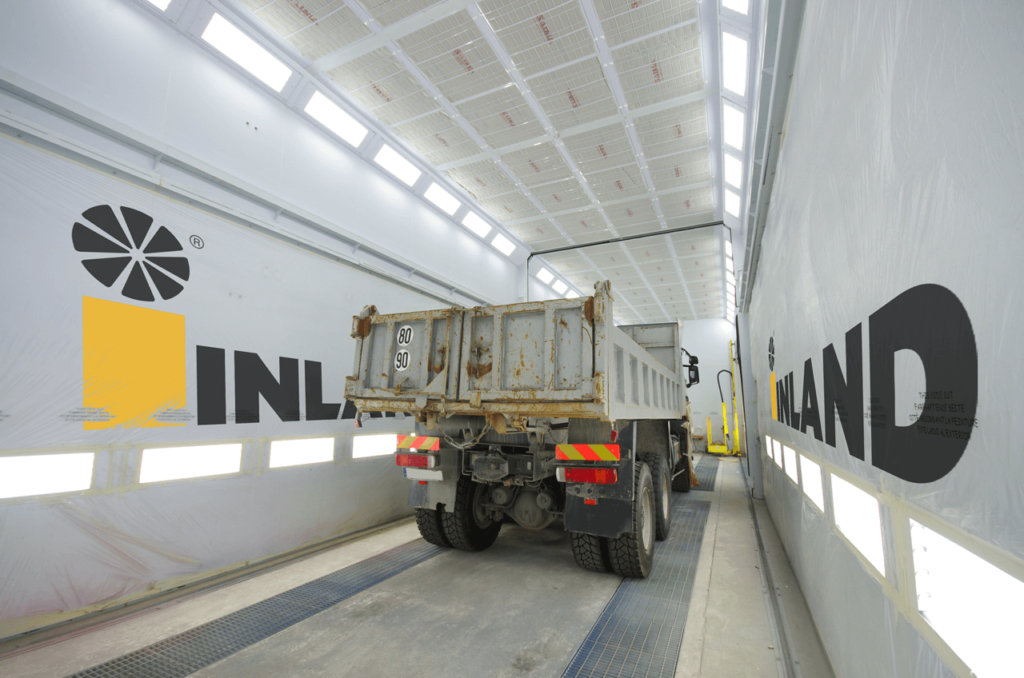 Alongside our exceptional semi-truck body shop service, we have strong relationships with the industry's top insurance providers and can help you navigate and expedite the paper related to your repair.
Better technology. More experience. Quality customer service.
Our shop is equipped with state-of-the-art industry tech. From heated paint booths (for faster drying on custom painting) to alignment and frame straightening equipment, all of which help us ensure the accuracy of your vehicle repair.
We know that downtime is the enemy so we've developed relationships with the trucking industry's top insurance providers. Each collision repair is unique and requires approval from the insurance provider — we'll work with them directly to help expedite the approval process. If downtime becomes a long-term issue, we're happy to provide a temporary replacement rig while your truck body repair is completed.
Inland's full-service heavy-duty truck bodywork includes:
Major & Minor Accident Repairs
Frame Straightening
Paint Jobs (from touch-ups to complete)
Warranty Repairs
Mechanical Repairs
Installation of Accessories
Glass Repair and Replacement
Wheel Alignment
Sheet Metal and Fiberglass Repair
Repairs Covered by Warranty or Insurance Providers
Frequently Asked Questions
What quality of workmanship can I expect from your collisions center?
Our goal is to provide you with a "like new" condition. To put it simply, we provide high-quality bodywork services because we love what we do. Knowing that the work we do helps commercial trucks provide goods to the economy is what keeps us going.
How much will my truck body repairs cost?
Semi-truck bodywork estimates are best given during an in-person inspection and assessment. While general estimates can be given over the phone or online (through photos) the true extent of damage can only be evaluated through a thorough and complete inspection.
How long does bodywork repair take?
Depending on the extent of damage, bodywork repairs can take anywhere from a couple of hours to several days (and sometimes longer for extreme accidents). Inland will always provide downtime estimates prior to scheduling and ensure that your truck is brought to your nearest location at the right time.
Scheduling Semi Truck Bodywork Service at Inland Truck & Equipment
To schedule service, fill out the form below or find the nearest location to you and get in touch.
Parts Request
Fill out our Parts Request form and an Inland representative will reach out to you as soon as possible.
---
Parts Specials
Don't miss our current parts specials – tailored for your needs.