Equipment and specifications shown on this page have been republished from manufacturer website and are subject to change without notice. Consult your Inland dealer at time of ordering for standard and optional equipment.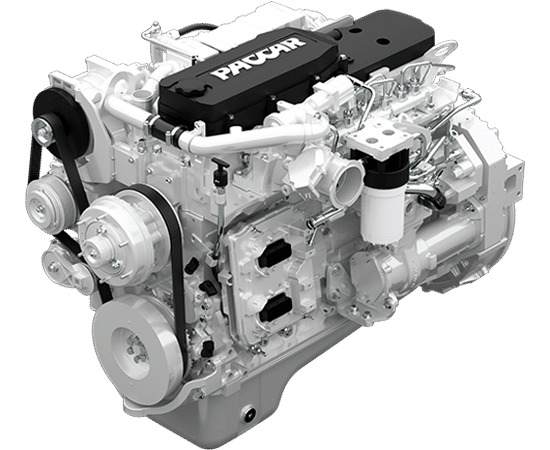 The 6.7 L PACCAR PX-7 makes a new name for dependable precision. With smooth operation and an excellent power-to-weight ratio, this engine sets new standards for medium-duty power.
Electronic Control Module
As the brain of the PX-7, the ECM accurately controls all engine functions for optimum performance and fuel economy.
Lightweight Package
The PX-7 unites a lightweight design with high structural integrity, providing a durable solution for miles of reliable service.
Variable Geometry Turbocharger
The infinitely adjustable VGT provides you the exact boost needed for a fast, superior response.
Ratings
| Engine Horsepower | Peak Torque LB-FT @ RPM | Governed RPM |
| --- | --- | --- |
| 200 | 520 @ 1,600 | 2,600 |
| 220 | 520 @ 1,600 | 2,600 |
| 220 | 600 @ 1,600 | 2,600 |
| 240 | 560 @ 1,600 | 2,600 |
| 250 | 660 @ 1,600 | 2,600 |
| 260* | 660 @ 1,600 | 2,600 |
| 280* | 660 @ 1,600 | 2,600 |
| 300* | 660 @ 1,600 | 2,600 |
| 325* | 750 @ 1,800 | 2,600 |
| 340** | 700 @ 1,600 | 2,800 |
| 360** | 800 @ 1,800 | 2,600 |
*Also Fire Service Rating, **Fire Service Rating Only
Specifications
| | |
| --- | --- |
| Configuration | Inline 6-Cylinder |
| Bore x Stroke (MM) | 107 x 124 |
| Displacement | 6.7 L |
| Dry Weight | 1,150 LBS |
| Oil System Capacity | 19.5 U.S. Quarts |
| Horsepower | 200-360 HP |
| Peak Torque | 520-800 LB-FT |
| Governed Speed | 2,600 RPM |
| Clutch Engagement Torque* | 400 LB-FT @ 700 RPM |
| Base Warranty | 3 Yrs / Unlimited Miles |
| Certification | EPA 2021 |
*Determined By Engine Horsepower and Idle Setting
Maintenance Intervals
| Maintenance Item | Kilometres | Miles |
| --- | --- | --- |
| Fuel Filter | 96,000 | 60,000 |
| Oil and Filter | 48,000 | 30,000 |
| DEF Filter | 320,000 | 200,000 |