Equipment and specifications shown on this page have been republished from manufacturer website and are subject to change without notice. Consult your Inland dealer at time of ordering for standard and optional equipment.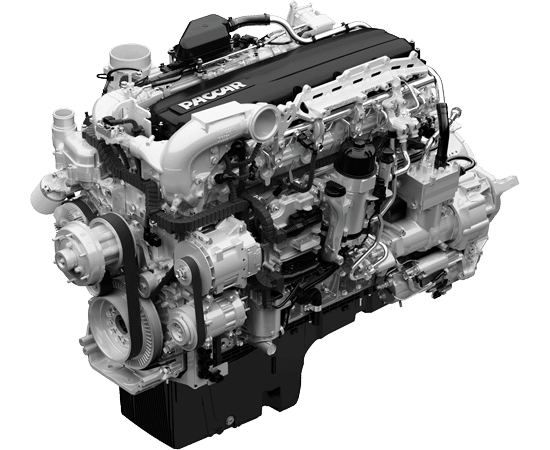 For demanding applications, heavy or highway hauling, the 12.9 liter
PACCAR MX-13 engine offers all the power and durability you need to move
maximum loads more productively. The PACCAR MX-13 delivers consistent
power and torque across a wide operating range — up to 510 horsepower
with 1,850 lb.-ft. of torque. Fine-tuned to your precise operating
requirements, this engine gives you more flexibility, more low-end power,
higher fuel effciency and a greatly enhanced driving experience
Fuel System
Our fuel system combines high pressure with the common rail system, optimizing combustion, increasing fuel efficiency, and decreasing noise and emissions.
Lubricant Module
Our lubricant module integrates oil filtration and temperature controls, increasing uptime and improving serviceability.
Torque
With 1,450–1,850 lb-ft and peak torque at low RPM, the MX-13 gives you more low-end power and higher fuel efficiency.
---
Ratings
| Peak Horsepower | Peak Torque LB-FT @ RPM |
| --- | --- |
| 510 | 1,850 @ 1,000 |
| 485 | 1,650 @ 900 |
| 455MT | 1,650/1,850 @ 900* |
| 455MT | 1,550/1,750 @ 900* |
| 455 | 1,650 @ 900 |
| 430 | 1,550 @ 900 |
| 405MT | 1,650/1,750 @ 900* |
*Multi Torque Rating
---
Specifications
| | |
| --- | --- |
| Configuration | Inline 6-Cylinder |
| Bore x Stroke (MM) | 130 x 162 |
| Displacement | 12.9 L |
| Dry Weight | 2,500 LBS |
| Oil System Capacity | 42 U.S. Quarts |
| Horsepower | 405-510 HP |
| Peak Torque | 1,550-1,850 LB-FT |
| Governed Speed | 2,200 RPM |
| Major Components Warranty | 5 Yrs / 500k Miles / 800K KM |
| B10 Design Life | 1M miles / 1.6M KM |
| Base Warranty | 2 Yrs / 250K Miles / 400 K KM |
| Certification | EPA 2021 |
*Determined By Engine Horsepower and Idle Setting
---
Maintenance Intervals
| Maintenance Item | Kilometres | Miles |
| --- | --- | --- |
| Fuel Filter (Normal/Line Haul < 20% Idle Time) | 120,000 | 75,000 |
| Fuel Filter (Normal/Line Haul > 20% Idle Time) | 80,000 | 50,000 |
| Fuel Filter (Severe Vocational Duty) | 48,000 | 30,000 |
| Oil and Filter (Normal/Line Haul < 20% Idle Time) | 120,000 | 75,000 |
| Oil and Filter (Normal/Line Haul > 20% Idle Time) | 80,000 | 50,000 |
| Oil and Filter (Severe Vocational Duty) | 48,000 | 30,000 |
| Coolant Filter | 480,000 | 300,000 |
| DEF Filter | 480,000 | 300,000 |
| DPF Service* | 960,000 | 600,000 |