The agility and performance of a site loader with the power and capacity of a production machine, the CASE 921G wheel loader (255 horsepower / 190 kW; 45,070 pounds) is the link between both worlds — delivering fast cycle times, powerful breakout forces and high operating capacities capable of playing well in all industries. And now, with new adjustable electro-hydraulic controls, an all-new touchscreen display and all-new collaborative fleet management technologies, the 921G delivers a powerful combination of productivity, efficiency and uptime — all protected by CASE ProCare.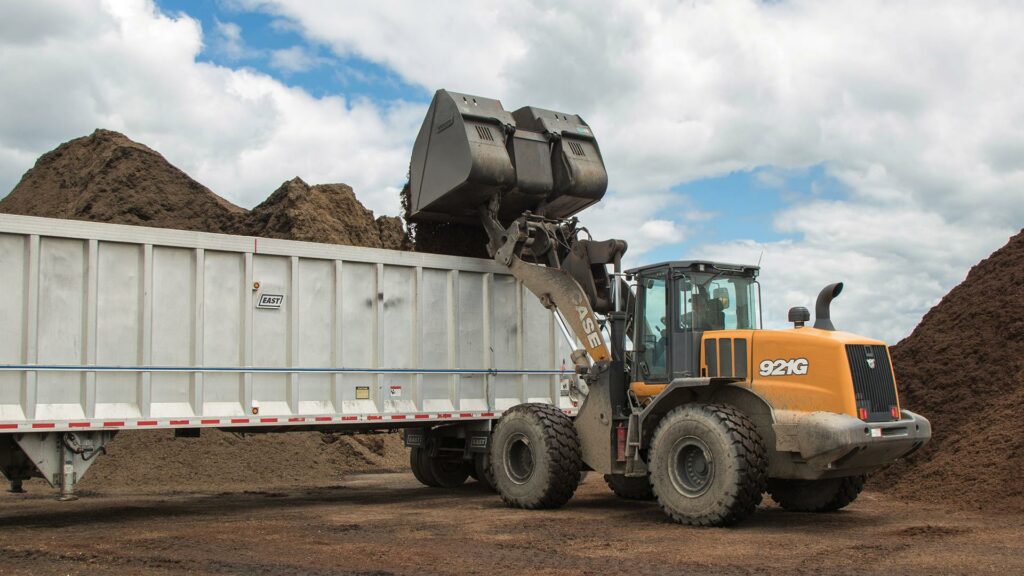 ---
Exclusive CASE G Series Productivity, Efficiency & Performance
At the core of every CASE G Series wheel loader is power, fuel efficiency, and the comfortable and intuitive way the operator and the machine work together. The 921G is powered by an FPT engine with patented selective catalytic reduction (SCR) emissions technology — there's no diesel particulate filter (DPF) and no regeneration. This creates greater fuel efficiency, keeps operating temperatures down and puts all working effort of the engine to the work. And standard Ride Control provides an extremely smooth ride with optimum material retention.
The CASE 921G offers auto-locking front and conventional/open rear differentials — ideal for operation on improved surfaces and consistent loading applications with a tight cycle.
An optional five-speed PowerShift transmission with lock-up torque converter provides faster acceleration and roading speeds up to 25 mph. And Powerinch provides incredible accuracy and control in tight loading areas, regardless of engine speed or grade.
Operation Made Even Easier
New enhancements to CASE G Series wheel loaders include new adjustable electro-hydraulic controls that allow the operator to independently set boom and bucket responsiveness to smooth, moderate or aggressive — the aggressive setting with the bucket function is ideal for topping off trucks and hoppers by finely feathering/metering in material. An all-new touchscreen display puts all core machine operating information and control within reach. Two simplified power modes — Smart and Max — let you work in the way that makes the most sense for your operation. And three new color-coded, configurable buttons on the armrest make three pre-set tasks, functions or settings as easy as the push of a button – all with minimal movement or distraction for the operator.
Ensure Greater Uptime
Anything can be connected. It's the ability to take action based on the information that connectivity provides that improves everything from fuel efficiency to productivity and uptime. Each new CASE G Series wheel loader comes connected with the all-new SiteConnect Module to improve telematics reporting (including additional parameters) and allow for critical functionality such as remote diagnostics and software updates. This provides a greater flow of information to business owners, fleet management personnel — and fleet management partners such as your local CASE dealer and CASE technical experts at the CASE Uptime Center.*
The connectivity of the SiteConnect Module also allows for new reporting and ticketing with the optional integrated payload system, and new reporting and features for the optional Tire Pressure Monitoring System (TPMS).
Improve Load Accuracy and Reporting
A new, optional, fully integrated payload system improves load accuracy and provides detailed real-time reporting (integrated in CASE SiteWatch telematics) for billing, tracking and operational performance. It helps prevent under- and over-loading of trucks, and ultimately results in faster cycle times with less hassle and wear and tear over time. And as it is integrated from the factory, the payload system is purpose-built for CASE G Series wheel loaders, is incorporated with the purchase/financing of the machine, and requires no installation time/aftermarket solutions. Please see more detail below.
For more information, check out the 921G brochure.
Standard Equipment
Operator Environment
ROPS cab AC w/ heat
8" LCD touchscreen display
Adjustable armrest w/ 3 configurable buttons
Key start
Articulated power steering w/ tilt column
Fully adjustable, heated air-ride seat w/ headrest
AM/FM Bluetooth radio w/ auxiliary input
Foot throttle
Single lever (joystick) loader control w/ auxiliary function and fully adjustable wrist rest
2 cup holders
2 interior rear view mirrors
3 inch (76 mm) retractable seat belt
Integrated 4-corner strobe
Multiple storage trays
Single brake pedal
F/N/R shuttle switch; Left and Right external rear view mirrors
Pressurized air filtering
Anti-glare window strip
Front and Rear Defroster
Side window, partial/fully open
2 Dome lights
Wipers, rear and intermittent front
Windshield washers, front and rear
Rubber floor mat
Horn
Dispays/Gauges:

Digital: Transmission oil temperature; Engine coolant temperature; Fuel level; DEF level
LCD screen: Hour meter; Time; FNR indicator; Trip computer A/B; Metric/ english; Differential lock; Engine speed; Automatic transmission indicator; DeClutch indicator; Fuel consumption; Engine diagnostics; Error reporting; Travel speed; Gear selection; Engine mode indicator; Transmission diagnostics; DEF – Diesel Exhaust Fluid gauge

Audible/Visual alarms:

Warning lights: Four way flashers and turn signals; Lamp/High Beam Indication; Engine Block Heater
Caution warnings: Parking brake; Coolant temperature; Hydraulic oil temperature; Transmission oil temperature; Air filter; Transmission filter; Hydraulic filter; Alternator; Low fuel
Critical warnings: Engine oil pressure; Brake pressure; Steering pressure – w/ aux. steering*; Coolant temperature; Hydraulic oil temperature; Transmission oil temperature
Backup alarm
Maintenance reminders: Cab air filter; Engine oil filter; Fuel pre-filter; DEF tank vent filter; SCR supply filter; Hydraulic oil and filter; Engine air filter; Engine coolant; Drive belt; Cab recirculation filter; Engine breather filter; Transmission breather; Front and rear axle fluid; SCR supply module filter
Drivetrain
4-wheel drive
4F/3R Selectable autoshift /manual shift transmission
Electronic Control Module – programmable, computer controlled proportional shifting with programmable gear selection
Onboard diagnostics
Single lever electronic shift control
F/N/R switch in loader control handle
Downshift button
Torque converter
Heavy-duty axles:

With locking front differential and open/conventional rear differential

Outboard planetary axles
Transmission oil cooler
Brake pedal transmission disconnect
Hydraulic wet disc brakes
Spring-applied hydraulic release parking brake
Limp-Home Mode
Greasable rear axle trunnion
3-piece rims
Telematics
CASE SiteWatch™ Telematics – includes hardware and a 3-yr Advanced data subscription
SiteConnect Module providing remote diagnostics capability
Engine
CASE/FPT F4HFE613R
Tier 4 Final Certified
Selective Catalytic Reduction (SCR) with Diesel Oxidation Catalyst
Selectable work modes:
Turbocharger
Charge air cooling
Automatic fan belt tensioner
Integral engine oil cooling
Fuel filter with water trap
Dual-element dry-type air cleaner
Hydraulic-driven cooling fan
Air-cooled radiator
Mid-mounted cooling module with hydraulically driven auto reversing fan
Engine block heater
Common rail electronic fuel injection
Electrical
120 amp alternator and voltage regulator
Battery isolator/electrical disconnect
(2) 700 CCA 12-volt batteries
Lights:

Integrated 4-corner strobe
2 Front and 2 rear halogen flood lights
2 Front driving headlights – high/ low beam
2 LED stop and tail lights with integrated turn signals

Front and rear turn signal/flash
Key start /stop switch
Centrally located fuse box with all electrical circuits protected
Backup alarm
Remote jump start posts
Hydraulics
Adjustable Electro-hydraulic – EH loader control with one auxiliary function and 3 configurable buttons
Adjustable EH settings:

Smooth
Moderate
Aggressive

Auxiliary hydraulics
Ride Control™
Locking hydraulics for hydraulic coupler
EH Parallel Lift
Low-effort steering
Hydraulic driven cooling fan
Split flange hydraulic connections –
Diagnostic quick couplers
Hydraulic oil cooler
Loader
Z-Bar loader linkage
Single control for lift and tilt
Positive hold float
Automatic return-to-dig
Automatic height control
Automatic return-to-travel
Brake pedal transmission disconnect
Bucket position indicator on bucket
Other
Electric hood lift
Front and rear fenders, partial coverage
External rear view mirrors
Heavy counterweight
Drawbar hitch
Articulation locking bar
Lift arm locking bar
Lift and tie-down points – front /rear
Rear frame side covers
License plate brackets; front bracket and lit rear bracket
Rubber steering stops
Standard fenders with Left hand and Right hand steps
Grouped remote-mounted ecology drains:

Engine oil
Engine coolant
Hydraulic oil
Optional Equipment
Hydraulics
Secondary steering
Integrated Payload System
Tire Pressure Monitoring System
2-function EH loader control with one auxiliary function
4-function EH loader control with two proportional auxiliary controls
2 Single axis EH levers and one auxiliary function
Joystick steering with or without secondary steering
Drivetrain
5F/3R Autoshift /manual shift transmission, lockup torque converter, PowerInch de-clutch
Cold weather package:

Heavy-duty batteries (2x 950 CCA)
Fuel heater
Hydraulic oil cooler bypass
Low temperature hydraulic oil
Fast-warm hydraulic valve
Other
12 mph (20 kph) maximum speed control
Special paint
Skid Plate/ Transmission guard
Wide full coverage fenders with right and left hand steps
Operator Environment
Leather trimmed heated air seat with active suspension
In cab powered cooler box
In cab accessory mount
Rear view camera
External heated rear view mirrors
Front LED driving/headlights
LED front and rear work lights – 4 front, 2 rear
Loader
XR extended reach version
Attachment auxiliary hydraulics
Coupler systems – JRB or ACS compatible
Buckets– see specifications
Tires
23.5 x 25 L2 bias – dirt / traction
23.5 x 25 L3 bias – rock
23.5-R25 L2 radial – dirt / traction
23.5-R25 L3 radial – rock
23.5-R25 radial Michelin SnoPlus Axle oscillation stops