At 24,466 lbs., the Tier 4 Final CASE 836C motor grader offers an ideal fit for small-to-mid-size grading applications such as residential site prep, snow removal and municipality work. Standard high-performance features and direct-mounted hydraulic controls that give operators a more responsive feel results in greater accuracy, smooth operation and less rework. And best yet, C Series graders come with the product assurance of CASE ProCare, giving owners three years of predictable costs and peace-of-mind.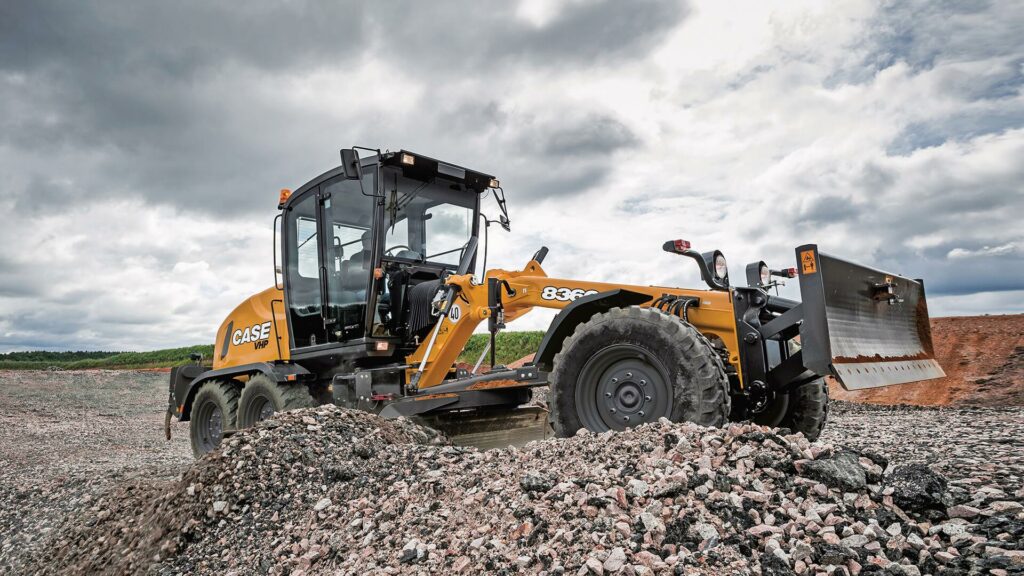 ---
Productivity
The 836C motor grader includes several innovative features to simplify operation so operators can stay focused on accuracy and jobsite safety. An Ergopower transmission and torque converter provide smooth, automatic shifting, and a hydraulic differential lock with auto power splitting automatically transfers torque from slipping tires to gripping ones.
C Series graders also feature an exclusive, heavy-duty A-frame drawbar design for superior stability and a hydraulically controlled, 5-position saddle. The high-carbon steel moldboard pitches, tilts and moves laterally, and sits on a sliding mount for adaptable positioning. Additional performance options include moldboard float, moldboard extensions, front dozer blade, rear ripper and a precision-ready setup that fits any major machine control supplier.
Fuel Efficiency
Emissions requirements are met through an innovative combination of FPT catalyst and filter solutions, and an Automatic Catalyst Management (ACM) system that requires no operator input and will not affect vehicle performance — all emissions management actions take place in the background.
Comfort and Visibility
The standard ROPS/FOPS cab includes a heated air-ride seat, AM/FM radio, adjustable operator's console and ergonomic controls. The cab's rear-mounted design, wide floor-to-ceiling windows and external mirrors provide superior sightlines to the moldboard and surrounding area while tinted safety glass and sunshields (front and rear) help moderate cab temp and block UV rays. A rearview camera with 7-inch LCD monitor and an advanced lighting package are also available to further improve jobsite visibility.
Serviceability
With the quick pull of a lever, the engine hood hydraulically lifts up providing unobstructed catwalk access to filters and key engine components. All maintenance checkpoints are located at ground or fender level to make daily maintenance as straightforward as possible and with the optional automatic lubrication system, it's even easier to properly maintain your investment. Plus, with ProCare included, owners have the peace-of-mind of SiteWatch™ Telematics and predictable maintenance costs for up to three years.
For more information, check out the 836C brochure.
Standard Equipment
Operator Environment
ROPS/FOPS cab – SAE J231, ISO 3449
Cab equipped w/ two fully swinging doors for both side access, tinted safety glasses, front and rear sunshield, openable front windows
Adjustable operator's console – includes hydraulic control levers, steering wheel, indicator lights
Air suspension seat w/ 3 in (76 mm) retractable seat belt and movable armrests
Dome light
Inside rearview mirror
Outside rearview mirrors
Cup holder
Storage tray
12-volt outlet
Radio ready – 12 Volt
Electrical master switch – automatic
Heater/defroster/pressurizer
Sound suppression
Delphi AM/FM Radio w/ CD
Steps – left/right
Windshield wiper – front
Windshield washer – front
Coat hook
Storage box left and right
Throttle hand lever
Drive Train
Hydraulic differential lock
Immobilization disc brake on transmission
Powershift transmission with 6 Foward and 3 Reverse speeds with integrated torque converter
Hydraulic dual circuit brake system
Hydrostatic front wheel drive D.C.V.

Electronic Drove Control Volume and hydraulic differential – FWD version only

Internal gearing:

Covered, Backlash-free and maintenance free slewing ring operation on 360°

Hydrostatic power steering
Circle drive without overload clutch
Rear axle with automatic/manual gear shifting
Transmission with automatic/manual gear shifting
Electrical
2 – Heavy-duty batteries – 1010 CCA
Battery main switch
Electronic Systems Monitor
Horn
Alternator – 90 amp
Headlights
2 – Turn signals front
2 – Tail lights with turn signals, brake lights
Flood lights – cab mounted
Other
Front counterweight
Rear counterweight
Front fender with hinged mudflaps
Rear fender
Wheel chocks x 2
Standard tooling
Drive Shaft Maintenance Free
Rear Ripper Maintenance Free
Dozer Maintenance Free
Telematics
CASE SiteWatch™ Telematics – includes hardware and a 3-yr Advanced data subscription
Engine
F4HFE6133*B003 NEF 6 cyl. CR TAA 4V turbocharged diesel
Tier 4 Final Certified
Temperature controlled cooling fan
SCR only exaust gas after-treatment
Charge air cooler
Air intake grid heater
Common rail electronic fuel injection
Hydraulic driven cooling fan
Auto idle
Cold start up to -19°C
Air cleaner/pre-cleaner with scavange line and safety element
Variable fan speed
Hydraulics
Closed center, load sensing hydraulic system
Controls for all functions
10 section control valve
Hydraulic moldboard side shift and pitch
5-position saddle
11 ft x 20.7 in (3 355 x 526 mm) moldboard
8 hydraulic diagnostic quick couplers
Front and rear piping for hydraulic attachment
Moldboard support no scarifier
Oscillating front axle with hydraulic lean adjustment
Oscillating tandem axle with automatic no-spin differential
Hydraulic circle turn – 360°
Hydraulic system lock valves for blade lift, blade shift, front wheel lean, blade pitch, articulation and special equipment, scarifier – optional, and rear ripper – optional
Lock valve lift cylinder blade
Tires
Instruments
Analog displays/Gauges:

Fuel level
Engine coolant temperature
Transmission oil temperature
Hydraulic oil temperature

Monitor Functions:

Hour meter; Automatic trans indication; DEF/Ad blue level indication; Floating – if activated; FWD aggressive mode; Error prompt; Park brake message; Clutch engagement status; Vehicle moving – yes/no; Engine speed; Travel speed; Current gear selection; FNR indication; Clock; Trip computer; Fuel consumption; Fuel level percentage; Oil pressure; Coolant temperature; Engine oil temperature; Transmission oil temperature; Hydraulic oil temperature; Turbocharger air temperature; Differential lock indicator; Gear selection indicator; Engine diagnostics; Transmission diagnostics; Keypad diagnostics; UCM diagnostics; Speed limit module; Support for different severities – White/Yellow/Red; System voltage; Error reporting; Warning prompts; Indicator warning lamps – main warning, parking brake, low brake pressure, low steering pressure, Pre-glow, high beams, turn signals, hazard lights, low fuel.
Optional Equipment
Hydraulics
Rear ripper hydraulic predisposition
Environment friendly hydraulic oil panolin
Moldboards
8 ft x 20.7 in (2 440 x 526 mm), single radius curve
10 ft x 20.7 in (3 050 x 526 mm), single radius curve
Extensions – 2 ft (610 mm)
Front Float Control
Moldboard Float Control – Hydraforce/HF22484-03
Lift cylinder/side shift accumulators
Lift cylinder accumulators
Moldboard with overload clutch
Moldboard side plates left /right
Tires
420/75 R20 XMCL TL Michelin
455/70 R20 SPT9 Dunlop
405/70 R24 SPT9 Dunlop
Other
Bidirectional engine cooling fan
Cold weather package
Fire extinguisher
Strobe light
Tool box – without tools
Deluxe tool box – with tools
Tire inflator kit
Spare wheel
Spare wheel support
Slow moving vehicle sign
Rear pull hook
Equipment on road
On road approval
Speed Limitation 20 km/h
Speed Limitation 25 km/h
Operator Environment
Front windows openable with rear window defroster
Lower front wiper/washers
Rear windshield washer
Air conditioning
Low Profile Cab
Radio
Air suspension seat, heated, moveable arm rests
Electrical
2 – Front mounted working lights
2 – Floodlights at moldboard
2 – Floodlights at articulation
2 – Floodlights rear
Snow wing lighting package
Backup alarm
Beacon
Attachments
Front pull hook
Front counterweight – 1,124 lb (510 kg)
Rear counterweight – 330.7 lb (150 kg)
Front dozer blade
Moldboard scarifier
Moldboard ripper
Front push plate
Front support and lift cylinder
Rear ripper with 3 or 5 teeth with or without protective device