Pallets to pipes, CASE H Series rough terrain forklifts get it done smoother, easier and faster. With fast lifting speeds, roading speeds of up to 24 mph (38.6 km/h), lifting capacities of up to 8,000 lbs and a slew of unique features that keep loads level and forklift operators comfortable, these high-performance, Tier 4 Final forklifts truly do raise the bar.
For more information, check out the Forklift brochure.
Fast Lifting Speeds
Rough terrain forklifts are designed for two things: lifting and moving loads. We've engineered the H Series to be the best at both. With lifting speeds of 107 feet per minute and roading speeds of 24 mph, you'll be able to raise, haul and place quicker to finish the job faster.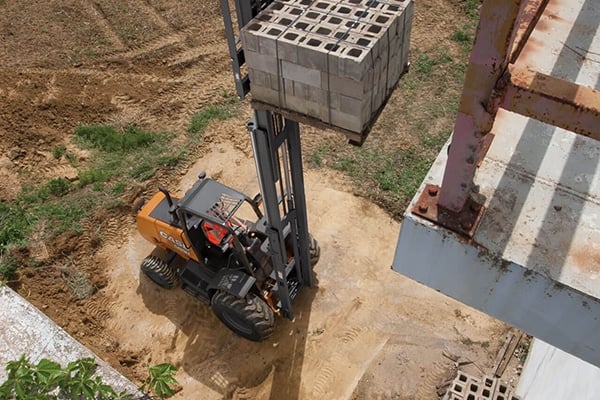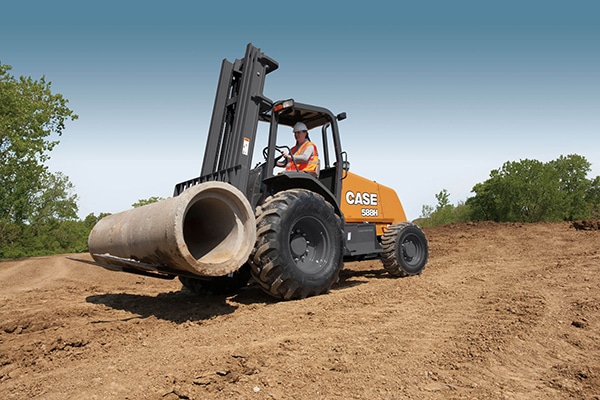 The Most Mast Movement
Our superior forklift mast also meets height restrictions, so transporting it is hassle-free on just about every trailer out there. If low clearances are an issue, CASE offers freelift masts that allow you to raise the forks 5 ft off the ground prior to the mast protruding, keeping your overall travel height lower.
Zero Tail Swing
Only CASE offers a zero tailswing forklift design. Thanks to a 55° steering angle, operators can rest easy and turn confidently knowing that once the tires clear an object – even at full turn – the rear counterweight will, too.