The CX350D is regularly deployed with confidence into both mass excavation operations as well as localized site and project work. Whether setting the pace on a water pipeline in South Dakota or digging through some of the toughest rock rural Canada has to offer, the CASE CX350D might be the perfect match of power, precision, performance and efficiency that will do both the heavy cut as well as the final site preparation. The CASE CX350D is also protected by CASE ProCare — giving you peace of mind to invest in your business knowing that CASE and your local CASE dealer supports you with preventive maintenance, SiteWatch telematics and more. This model is also now available with OEM-Fit 2D and 3D machine control solutions from your CASE SiteControl certified dealer.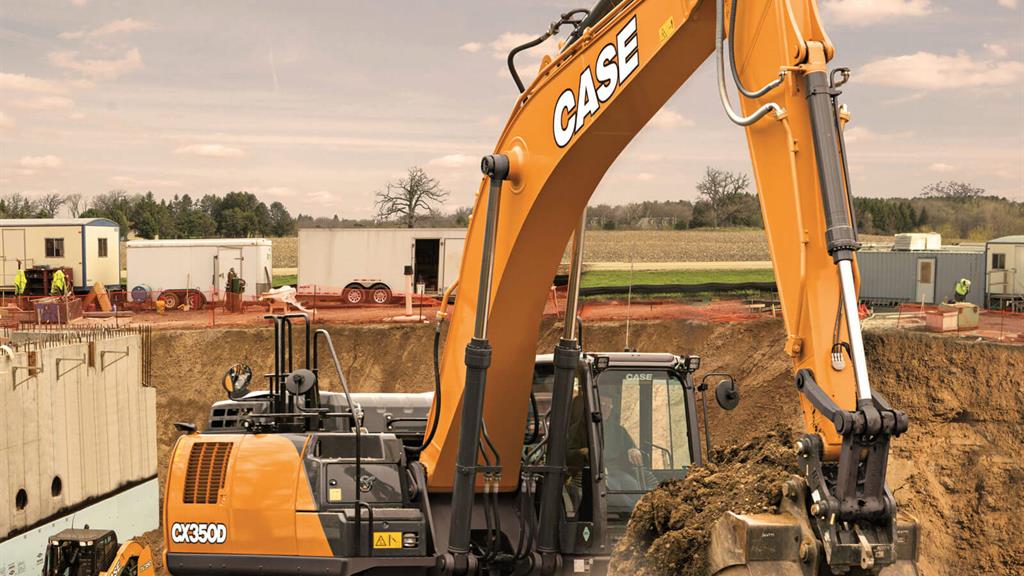 ---
Productivity
The CX350D is a machine designed to improve profitability by decreasing cycle times and lowering operating costs. At the heart of its productivity is three selectable power modes and the CASE Intelligent Hydraulics System (CIHS), which actively monitors and manages power output throughout the entire work cycle. This improves efficiency and gives operators greater feel and finesse, providing precise control down to the inch without sacrificing strength through the dig and lift cycles.
Quicker cycle times and increased power are a direct result of an electronically controlled pump and larger control valves, and in addition to hydraulic enhancements for performance, the D Series also features a stronger undercarriage and the arm and boom for more durability and power. Other standard functions include Free Swing for better control when craning or placing and 10 programmable attachment presets to save time when switching tasks.
Fuel Efficiency
To meet emission regulations, the CX350D has a reengineered Tier 4 Final solution with SCR technology (Selective Catalytic Reduction) and a DOC (Diesel Oxidation Catalyst). This system requires no DPF (Diesel Particulate Filter), which means no expensive DPF replacement costs and no regeneration downtime or associated temperature spikes. The result is a cleaner burn, uncompromising power and increased fuel efficiency – as much as 8-percent greater efficiency than the already impressive C Series – while still being easy on the operator. Simply add DEF (Diesel Exhaust Fluid) when fueling up.
Comfort and Visibility
A best-in-class cab space features excellent visibility, fully adjustable controls and a large color monitor with a standard rearview and side-view cameras. The viscous-mounted cab is fully pressurized, offers plenty of entry room and foot space and has a standard heated air-ride seat that can slide, tilt back 65 degrees and adjust the lumbar support to reduce pressure points. An innovative armrest design adjusts independently of the controls and common functions such as horn and radio mute are conveniently located on the joysticks. Other standard amenities include Bluetooth radio and an auto-temperature control system. For even greater visibility, LED is available and the CASE Max View option includes an additional side camera to display a 270-degree aerial view around the machine.
Serviceability
Several serviceability features work together to make it easy for owners to maximize the life, performance and uptime of their investment. Oil sample ports come standard to allow for quick contaminant checks, routine service points are grouped together to help save time, and many key components are accessible from the ground. The coolers also feature debris screens that can be easily removed for quick cleanout. Plus, the protection of ProCare includes a 3-yr/2,000-hr planned maintenance package.
For more information, check out the CX350D brochure.
Standard Equipment
Operator Environment
ROPS protection
FOPS cab top guard – Level 1
Pressurized cab
Face vent
Cab lights – 2
Interior dome light
One-touch lock front window
One piece window – right
Safety glass windows
Gate lock hydraulic activation
Emergency exit and hammer
Clear polycarbonate roof window with sunshade
AC/heat/defrost with auto climate control
LED Color monitor – 7 in (180 mm)
26 selectable languages for monitor
On-board diagnostic system
10 programmable attachments settings on monitor – 5 single flow, 5 dual flow
Seatbelt – 3 in (76 mm)
Heated high-back cloth seat with air suspension and 65° tilt adjustment
Sliding seat — 3.54 in (90 mm)
Adjustable armrests
Tilting consoles – 4-position
Sliding cockpit – 3.15 in (80 mm)
Low-effort joystick controls
Controls pre-wired for auxiliary
Single pedal travel
Straight travel
AM/FM radio with antenna, 2 speakers and Bluetooth capabilities
Aux-in port for personal electronics
Radio mute switch – joystick
Rear-view camera
Anti-theft system – start code system
Rubber floormat
12 Volt electric outlet
24 Volt cigarette lighter
Windshield wiper/washer
Cup holder
Storage compartments
Warm/cool storage compartment
Travel alarm with cancel switch
Ignition keys
One key start & lock-up
Cab filter – external
Cab handrails
Operator's manual
Fuel Economy Systems
Engine Idle/Fuel Economy System: Auto-idle, One-touch idle, Auto-idle shut-down
BEC – Boom Economy Control
AEC – Auto Economy Control
SWC – Swing Relief Control
SSC – Spool Stroke Control
Attachments
Boom – 21 ft 2 in (6.45 m)
Arm – 10 ft 8 in (3.25 m)
Heavy-duty bucket linkage
Boom mounted work light – 70 watt
Auxiliary pipe brackets
Centralized grease fittings
Attachment cushion valve
Arm and boom regeneration
Bucket anti-clatter device
Chrome pins
Easy Maintenance System (EMS) bushings
Teardrop pin retention keepers
Undercarriage
Long undercarriage
31.5 in (800 mm) steel shoes, triple semi-grouser
Full overlap turntable bearing tub
Double track chain guides
Hydraulic track adjustment
Sealed link chain
Steps
Carbody belly pan – swivel guard
X-pattern carbody
Lashing points – tie downs
Extra Filter Kit:

Engine oil filter
Filter wrench
Fuel filters
Grease gun
Green plug oil drain hose for engine oil drain
Hydraulic return filter
Pilot circuit hydraulic filter
Engine
Isuzu AQ-6HK1X
Tier 4 Final Certified
Selective Catalytic Reduction – SCR
Diesel Oxidation Catalyst – DOC
Cooled Exhaust Gas Recirculation – CEGR
EGR Coolers
Six-cylinder turbo-charged diesel
VGT turbocharger
Electronic fuel injection
High pressure common rail system
Neutral safety start
Auto-engine warm up
Glow-plug pre-heat
Fuel Economy Assist System – FEA
Engine Protection Feature – EPF
Dual-stage fuel filtration
Dual element air filter
Remote oil filter
Drain for fuel tank
Remote engine oil drain
500-hour engine oil change interval
24 Volt system
Engine oil sample port
Battery disconnect switch
Air pre-cleaner – Cyclone
High ambient temperature cooling package
Emergency engine stop
External Fuel and DEF gauges
Fan housing
Fuel cooler
Fuel filter restriction indicator
Fuel shut-off valve
Idle start
Radiator, oil cooler, intercooler – protective screen
Upper Structure
ISO mirrors – 3
Cab ISO-Mounts – fluid and spring
Upper mounted work light – 70 watt
Swivel guard belly pan
Center cover – over main CV
Fuel tank belly pan
Handrail – RH access
ISO guard rails
Lifting eyes for counterweight
Lockable fuel cap, service doors and tool box
Hydraulics
Auto power boost
Auto swing priority
Arm speed assistance – 2 pump flow
Auxiliary flow control
Auxiliary valve
Boom speed assistance – 2 pump flow
Bucket curl assist
Control levers pre-wired for auxiliary hydraulics
Electronically controlled hydraulic pumps
Holding valve – Boom and Arm
Fire wall
Hydraulic filter restriction indicator
Neutral pump de-stroke
Oil cooler
Power save
Pump stand-by pressure
Auto travel speed change
Selectable work modes
Free swing
Hydraulic oil sample port
Control pattern selector
Pre-set auxiliary pump settings
Auxiliary valve
5,000-hour hydraulic oil change interval
1,000-hour hydraulic filter change interval
SAHR brake
Telematics
CASE SiteWatch™ Telematics – includes hardware and a 3-yr Advanced data subscription
Optional Equipment
Hydraulics
Auxiliary hydraulics:

Single acting/joystick activated
Double acting/joystick activated – thumb
Multi-function/joystick activated
Multi-function with electronic pressure control/joystick activated with electronic proportional controls
Secondary low-flow/joystick activated
Proportional hydraulic controls

Hose Burst Check Valve – HBCV
Upper Structure
Rubber bumper guard – order through Service Parts
Catwalk – left and right side
Engine
Undercarriage
27.6 in (700 mm) steel shoes, triple semi-grouser
33.5 in (850 mm) steel shoes, triple semi-grouser
Operator Environment
FOPS cab top guard – Level 2
Front grill guard – 2 x 2 in (50.8 x 50.8 mm) screen mesh
Front rock guard – vertical bars
Front rock guard – vertical bars
Vandal guard (front window) with common key
Rain deflector – not available with Front guards
Sun visor
Side-view camera
LED Package: Includes 1 Side view camera and 6 LED Lights – 2 front cab mounted, 2 rear mounted and 1 mounted on each side
MACHINE CONTROL
Leica iCON iXE2 – 2D System
Leica iCON iXE3 – 3D System
Attachments
Heavy-duty boom – 21 ft 2 in (6.45 m)
Short arm – 8 ft 8 in (2.63 m)
Heavy-duty arm – 10 ft 8 in (3.25 m)
Long arm – 13 ft 3 in (4.04 m)
Quick coupler/Case multi-pin grabber
Tools:

Heavy-duty/Extreme-duty/Ditching Buckets, Hammers, Thumbs, Compaction plates

Load holding control