The CX245D SR features a minimum-swing-radius design and a modified boom placement that minimizes the machine's footprint while still delivering trademark CASE D Series power, precision, responsiveness and performance. A powerful and versatile utility performer, the CX245D SR lets you shut down fewer lanes and work up against structures without sacrificing any performance. It's a highly productive and maneuverable excavator that's ideal for restricted conditions, such as road and bridge work, residential projects and urban construction. It is protected by CASE ProCare — giving you peace of mind to invest in your business knowing that CASE and your local CASE dealer supports you with preventive maintenance, SiteWatch telematics and more. This model is also now available with OEM-Fit 2D and 3D machine control solutions from your CASE SiteControl certified dealer.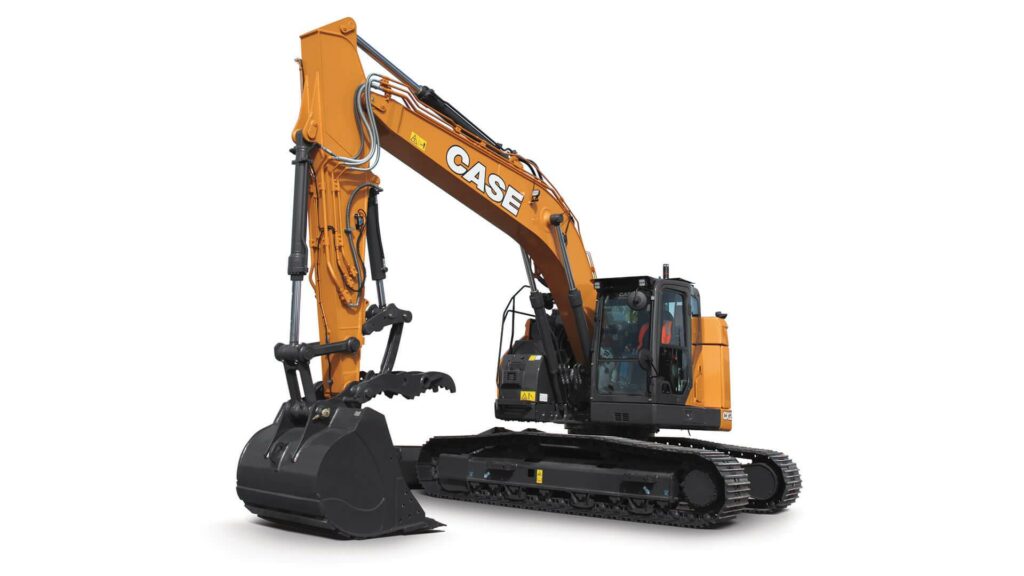 ---
Productivity
Faster cycle times are achieved with the CASE Intelligent Hydraulic System, which provides faster and more efficient path of hydraulic flow. The D Series also offers 3 Power Modes to match different application needs and maximize fuel economy:
Automatic (A): The best balance between productivity and fuel efficiency
Heavy Duty (HD): High workload mode
Speed Priority (SP): Extra speed and power for the most demanding jobs that require maximum productivity
Fuel Efficiency
The CASE CX245D SR excavator meets Tier 4 Final emissions standards through an innovative combination of Selective Catalytic Reduction (SCR) and Diesel Oxidation Catalyst (DOC) technologies, helping to maximize uptime and performance. No expensive Diesel Particulate Filter (DPF) to replace and no DPF regeneration. These technologies, combined with the CASE Intelligent Hydraulic System, make the CX245D SR the most powerful and efficient minimum swing radius excavator CASE has ever introduced.
Comfort and Visibility
The CX245D SR also features the most spacious cab in its size class, providing excellent visibility and a pressurized and iso-mounted cab that keeps noise and vibration down. A standard Bluetooth radio gives operators hands-free functionality that further improves the operator experience. A standard rearview camera and side camera feed a 7-inch widescreen monitor that also provides operators with real-time access to important performance parameters, including fuel consumption, operating hours and machine information. The optional CASE Max View Monitor provides 270o visibility, providing the operator full visibility of machine's surroundings.
Serviceability
CASE understands the importance of uptime and machine utilization. Part of CASE's DNA is providing easy access for operator and service technicians to complete their daily walkarounds and routine service inspections. D Series excavators are no exception. Hydraulic oil site gauges, DEF level sight gauge, grouped service points, and auto-locking side panels that stay open make it easy to perform routine maintenance. Standard oil sample ports allow service technicians to easily take samples and check the quality of the hydraulic oil and the engine oil. Extra-large DEF tanks provide a Refill frequency of 4-5 times to 1 fuel fill. Additional handrails make it easier and safer for operators and service techs to access all areas of the machine to complete their daily walkarounds and service checks, and get the machine back into production.
For more information, check out the CX245D SR brochure.
Standard Equipment
Operator Environment
13,492 BTU/hr Air-conditioner
12,892 BTU/hr Heater
12 Volt Electrical outlet
10 watt Cab interior light
Rear view camera
Air-suspension seat
Fuel Economy Systems
Engine Idle/Fuel Economy System:

Auto-idle
One-touch idle
Idle shut-down

BEC – Boom Economy Control
AEC – Auto Economy Control
SWC – Swing Relief Control
SSC – Spool Stroke Control
Attachments
Boom – 18 ft 8 in (5.70 m)
Arm – 9 ft 8 in (2.94 m)
Heavy-duty bucket linkage
Boom mounted work light – 70 watt
Auxiliary pipe brackets
Centralized grease fittings
Attachment cushion valve
Arm and boom regeneration
Undercarriage
31.5 in (800 mm) steel shoes, triple semigrouser
Full overlap turntable bearing tub
Single track chain guides
Hydraulic track adjustment
X-pattern carbody
Telematics
CASE SiteWatch™ Telematics – includes hardware and a 3-yr Advanced data subscription
Engine
Isuzu four-cylinder turbo-charged diesel
Tier 4 Certified – Turbocharged, air cooled intercooler and SCR system
Electronic fuel injection
High pressure common rail system
Diesel Oxidation Catalyst – DOC
Neutral safety start
Auto-engine warm up
Glow-plug pre-heat
EPF – Engine Protection Feature
Dual-stage fuel filtration
Dual element air filter
Remote oil filter
Green plug oil drain
500-hour engine oil change interval
24-volt system
Requires CJ-4 engine oil
Requires ultra low-sulfur fuel
Upper Structure
Right and left side mirrors
Isolation mounted cab – fluid and spring
Common key vandal locks
Upper mounted work light – 70 watt
Swivel guard belly pan
Hydraulics
Auto power boost
Auto swing priority
Auto travel speed change
Selectable work modes
ISO pattern controls
Pre-set auxiliary pump settings
Auxiliary valve
Auxiliary pipe brackets
Control pattern selector
5,000-hour hydraulic oil change interval
1,000-hour hydraulic filter change interval
SAHR brake
Optional Equipment
Hydraulics
Auxiliary hydraulics:

Single acting/joystick activated
Double acting/joystick activated
Multi-function/joystick activated
Secondary low-flow/joystick activated
MACHINE CONTROL
Leica iCON iXE2 – 2D System
Leica iCON iXE3 – 3D System
Undercarriage
23.6 in (600 mm) rubber shoes
23.6 in (600 mm) steel shoes, triple semigrouser
27.6 in (700 mm) steel shoes, triple semigrouser
Operator Environment
FOPS cab top guard – Level 2
Front grill guard – 2 x 2 screen mesh
Front rock guard:
Vertical bars – two piece/OPG 1
Front rock guard:
Vertical bars – fixed/one piece/OPG 2
Vandal guard
Rain deflector
Sun visor
Side-view camera
Attachments
Arm – 7 ft 10 in (2.40 m)
Coupler/Case multi-pin grabber
Buckets:

Heavy-duty
Extreme-duty
Load holding control
Free swing – order kit through Service Parts
Hose Burst Check Valve – HBCV