Part dozer. Part loader. All beast. Meet the CASE Minotaur™ DL550
An all-new, industry-first equipment category: the compact dozer loader. The integrated C-frame delivers true dozer performance and the agility and finesse of a loader. CASE Universal Machine Control allows you to use the precision construction technology you prefer*. It's compatible with hundreds of attachments, and the addition of an industry-exclusive fully integrated ripper makes this machine one-of-a-kind. It has the strength, attitude, and intelligence to stake a claim as the industry's most versatile and powerful compact machine.
Minotaur demonstrates CASE's commitment to delivering real-world innovation rooted in customer needs. With 29 patents**, over 10,000 field test hours, multiple customer clinics, countless operator evaluations, product refinements, and even more evaluations after that — we've put this machine to the test to deliver you the highest standard in quality. Built mean for tough conditions and smart for precision grading, you can take it all on with confidence. Transform your operation with CASE Construction Equipment.
*Machine control solution of your choice sold separately
**21 patents granted, 8 pending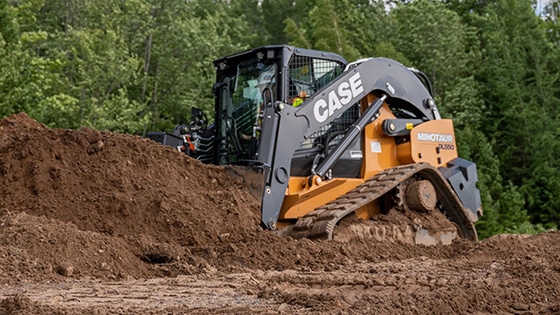 Download the Compact Dozer Loader brochure
The CASE Minotaur DL550 helps you dominate the job site with true dozing performance, massive power, and unrelenting hydraulics–all in a single platform that's compatible with hundreds of attachments. It all comes down to providing you with ways to work smarter to increase productivity and improve your profitability.
This exciting new product works very intuitively. It operates as a compact dozer when equipped with the fully chassis-integrated C-frame and six-way blade. That C-frame then can be dropped with a few easy steps, and then the machine serves as a loader with a 1.25-cubic-yard bucket — or it can be run with any of the hundreds of attachments equipment owners already have for their current loaders.
Key features of the new CASE Minotaur DL550 compact dozer loader:
Industry-exclusive chassis-integrated C-frame with six-way blade delivers true dozer performance
Industry-exclusive fully integrated rear ripper for tearing tough soils (optional)
Standard 1.25-cubic-yard bucket for heavy-duty loading and material handling
Compatible with hundreds of attachments — enhanced high-flow comes standard
Choice of steel tracks (two options) or rubber tracks to match jobsite profiles
CASE Universal Machine Control allows for the precision construction solution of your choice*
Powerful collaborative fleet management with CASE SiteWatch telematics (standard) and remote machine access for diagnostics and software uploads