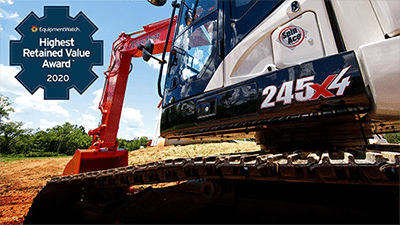 LBX Company is pleased to announce that the Link-Belt 245 X4 Spin Ace has won the EquipmentWatch 2020 Highest Retained Value Award in the Excavator Crawler Medium (21.1-50.0 MT) category. Winners were announced March 10 at CONEXPO/CON-AGG 2020 in Las Vegas, Nevada.
The Link-Belt 245 X4 Spin Ace excavator is perfect for urban construction or working safely near moving traffic. 160 HP Tier 4 Final Isuzu engine delivers power and control in tight working conditions. Standard rear-view camera with sight guidelines displays a panoramic view of worksite. RemoteCARE® telematics provides 24/7 remote service monitoring and security.
The EquipmentWatch annual awards are based on extensive analysis of millions of data records to determine which model series retain the highest percentage of its original value and lowest five-year total cost of ownership.
EquipmentWatch Values analysts review the most popular equipment series observed on the resale channel in 2019 to determine 2020 HRVA winners. Series without a model in current production are removed. Only equipment series which consist of at least one model contained in the EquipmentWatch Residual Values software were considered. For more information on the EquipmentWatch program and the methodology used to determine awards, visit EquipmentWatch.
For more information Paul Wagner, Marketing Content Manager at pwagner@lbxco.com.
About EquipmentWatch
EquipmentWatch is the trusted source for heavy equipment data and intelligence. EquipmentWatch produces the leading database information products for the construction equipment industry and is the world leader in heavy construction research and serves more than 15,000 professional, high-volume users of construction and lift-truck data. Our products are valuable tools in decisions surrounding the purchase, valuation, operation, and disposal of equipment. For nearly 50 years, EquipmentWatch has served contractors, equipment manufacturers, dealers, rental companies, lenders and insurers, and government agencies involved in heavy civil construction.
About Informa
EquipmentWatch is part of Informa, the international business intelligence, academic publishing, knowledge and events group. Informa serves commercial, professional and academic communities, helping them connect and learn, and creating and providing access to content and intelligence that helps people and businesses work smarter and make better decisions faster. Informa has over 7,500 colleagues in more than 20 countries and a presence in all major geographies. It is listed on the London Stock Exchange and is a member of the FTSE 100.