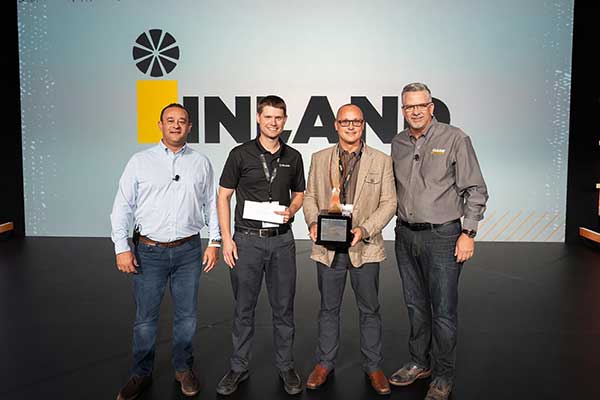 At September's CASE Construction Equipment Dealer Meeting, Inland was presented with CASE's first-ever Community Builder Award. This was the cherry on top of an unbelievable year for Inland's CharityDRIVE campaign—which has now raised over $250,000 in support of Ronald McDonald House BC & Yukon.
The CharityDRIVE began in 2020 when the Okanagan Dream Rally was forced to take a year off due to the COVID-19 pandemic. The Rally is a special event in which children and youth in need are taken on a memorable supercar trip between Kelowna and Penticton, B.C. It is a fundraising staple for the Ronald McDonald House BC & Yukon—with over $3.3 million raised to date. So, when COVID-19 got in the way, the Inland and CASE teams knew we had to help.
Since the start of the CharityDRIVE, Inland has donated $250 for every CASE machine sold. In addition, we have launched multiple events to boost the campaign.
In 2020, we raffled off two supercar experiences (donated by August Luxury Motorcars and Brent Marshall) to anyone who purchased a CASE machine or donated.
In 2021, we designed a special CASE SV185B skid steer and put it up for auction. This raised $81,000—all for RMHBC.
We also launched a Toy Drive in late 2021. This resulted in 7 pallets of toys being dropped off at the House!
In 2022, we raffled off a trip to CONEXPO in Las Vegas to anyone who purchased a CASE machine.
Also, in 2022, we were honored to be the Presenting Sponsor for the Okanagan Dream Rally. This will continue through 2024.
Despite all this, we're not done yet. Our new goal is $300,000, and there are multiple ways you can help. First, you can
visit our Ronald McDonald House fundraising page. The impact of RMH BC is seen throughout B.C. and the Yukon, helping to lessen the burdens experienced by families during difficult times. You can ensure that it continues to thrive by donating directly.
Also—for every qualifying piece of CASE Construction Equipment machine sold, we will continue to donate $250 to the Ronald McDonald House.
For more information on how you can help keep families close when they need it most, please get in touch with your local Inland equipment sales representative or check out our CharityDRIVE page.